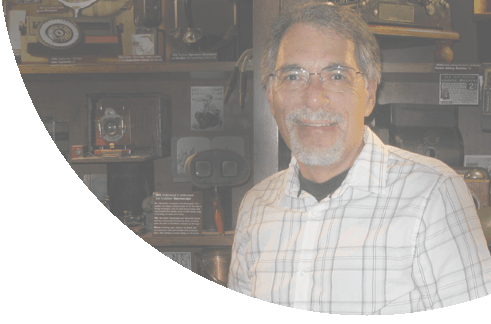 About
Tom Tortorici is a seasoned designer, writer, strategist, teacher and speaker based in Atlanta.
As the creative and strategic lead for Market Media projects, he brings in a talented stable of technical and other specialists as needed.
Tom's big A-Ha! moment: As an agency creative director years ago, I had the chance to teach a class in marketing strategy to a very creative group of young writers and designers. But I didn't want to bore them with the 'principles of marketing.' Instead, I wanted to dig deeper into into how buyers and sellers interact in the real world.
So I began an experiment. I started closely observing myself as I absorbed all kinds of media, everything from websites to billboards. What caught my eye, what drew me in, and what happened next? How did it make me feel? And why was most marketing so easy to ignore?
Every time I clicked away from website that didn't grab me, I thought, well, the business owner approached the site from an internal company perspective. The web designer approached it as a visual arrangement. But you know what? I don't think anyone approached that website from the buyer's point-of-view.
It became clear that good, effective marketing doesn't come from a company tooting its own horn. It comes from digging deeper to understand, and connect with, the buyer's own mindset and challenges. And these almost always have both logical and emotional components.
I learned why approaches that seemed to make sense to sellers often fell flat with buyers. And I understood why layouts that ignored the eye's natural patterns are likely to ignored themselves. This led to some pretty interesting research into topics like communication theory, classical rhetoric, and visual perception.
In all, the experiment turned out to be fascinating. As media evolves, it still teaches me new things. By approaching marketing from the buyers' point-of-view, I know I've become a better seller. And over the years, I've tried to take the knowledge I've stumbled upon and put it to work for the companies who have been nice enough to hire me.
I've also had fun passing along design, writing and strategy insights at other teaching gigs and conference speaking engagements. Plus clients tell me they've learned something about their company's true strengths, from our time working together.
I'm grateful for the chance to help others earn a living from their businesses. Because as technology, commerce and society evolve, ever faster it seems, we are all in this together.
" Sure, I want people to like your new website. But it's more important that they fall in love with your product."
Tom Tortorici
TOM Talks

The following educational programs have been presented at conferences and classes for communications professionals as well as business owners.
Click on each title below for descriptions:
Optimized for Humans
Search Engine Optimization helps your website get noticed, but search engines don't make purchase decisions; humans do. By understanding how to appeal to the eye, the mind and the heart, we can use what we know about our audience to draw them in, make a solid connection, and overcome resistance. And with plenty of website-makeover examples, we'll learn how to tap into both the logical and emotional aspects of purchase behavior. By taking off our "seller's hat" and putting on our "buyer's hat," anyone involved with company websites will discover what really works for online visitors. You'll walk out with ideas that you can put to work right away.  
"Tom's presentation was outstanding. Through use of colorful examples, Tom demonstrated better ways of leading people into reading web content, and creating calls to action that get people to take action."
– Judi Knight
"One of my favorite business presentations to date. It was was informative, clear, and entertaining! And for the first time, it really had me thinking about the best way to communicate with potential customers online."
– Allison Boaz
"Tom's presentation should be required for anyone who has a website. He explained the HOW TO's of selling to people online. This is a subject that's so critical to a website's success. Tom understands how to sell on the web."
-Keith Burnett
Awesome Images on Your Website
When someone lands on your website, the first thing they notice are the images. Are they powerful, compelling visuals that draw visitors closer; or are they … just o.k.? We'll look at a slew of before-and-after examples that show what can be done to increase the visual appeal and visceral impact of your photos on the web. From banner images to profile photos to stock photos, we'll explore tips, ideas and all kinds useful insights for creating 'eye candy' that makes your site stand out. This is a non-technical presentation of eye-catching possibilities.  
"Thanks for your excellent presentation; I learned a lot from your session and am extremely grateful for your time and willingness to share your knowledge."
– E.J. Rabell
"Thanks for the presentation! I got a lot of good information out of it about using images in websites."
– Frank Sapp
Smart Writing for Business Websites
The visual design of a website is only half the job. The other half is the writing, which can engage and convert visitors if it's done right — or push them away if it's done wrong. Come find out why good marketing copy is just as much about the customer as it is about the company. Check out a slew of home page makeovers, to see how a creative treatment of a strategic message makes a business stand out. And learn to uncover insights for making a genuine connection with those nice people who visit your (or your client's) site. Not a writer? Get tips for working with copywriters.  
"It was wonderful to see Tom's take on how to create a connection with website visitors through content. His talk was a stand-out for me at the conference."
– Brooke Martens
"Love and appreciate Tom's insight on writing for the audience. For my 3 days at the conference, Tom's hour was #1."
– Jim Wordes
"Good distinctions on copy approaches for every 'layer' of a website."
– Nina Rubin